iSEEK™ Targeted Discovery
One of the most pressing challenges organizations face is ensuring transparency in providing easy access to resources that both inform and empower their stakeholders. Having open access to data provides a platform that governments, non-profits, and businesses can build upon without the cost, red tape, and manpower limitations that plague traditional records management systems.
The Challenge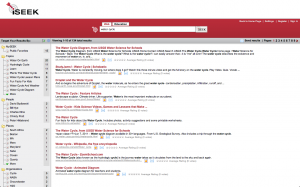 From an organizational perspective, making information public is not a simple task. Resources are stored in a variety of formats and locations. Traditional indexing methods make finding relevant information difficult, and understanding the narrative within that data can be nearly impossible. Stakeholders can only make use of these resources if they are accessible in a clear, comprehensive, and reliable way. More importantly, a decision maker can only make use of a knowledge management solution that scales to their needs while remaining affordable.
The Solution
iSEEK™ Targeted Discovery is the comprehensive knowledge management and discovery solution. Combining a powerful cataloging engine, an intuitive presentation of search results in context, and a low cost of implementation, iSEEK™ breaks down the barriers between data and action.
Indexing
Building upon years of research in natural language computer interfaces, iSEEK™ relies on more than just using keywords to find information. iSEEK™ understands the meaning of the data and why it is important and relevant. This powerful technology also allows iSEEK™ to read a wide range of formats to bring together videos, digitized books, newspaper archives, maps, building blueprints, calendars, and more, whether they are newly rendered or part of an archive digitization program.
Results
Utilizing iSEEK™ produces quick, clear, organized, and actionable results. Information from all data sources is pinpointed to the exact location within the document where the answers are, providing true "targeted discovery." The resulting information sets are dynamically clustered around conceptual relationships such as date, place, category, people, and topic. This allows users to dive deeper into a specific concept of interest for even more refined answers.
Implementation
There are no software installations, no servers for IT staffs to manage, and no limitations on the size of deployment. As more information is added to the index, iSEEK™ scales to the challenge. This ensures costs are controlled while further empowering users.